VANTAGE 2200
Open Chanel Ultrasonic Flowmeter
Flow Measurement
Level Transmission
Data Logging
IEEE 754 Precision Accuracy
5 Minute Programming
The Vantage 2200 is a state-of-the-art microprocessor-based ultrasonic transmitter utilized for measurement of both liquid level and flow in open channels. The 2200 is equipped, as standard, with an internal data logger. More than 70 standard flow equations for flumes, weirs and open flow nozzles are stored in non-volatile memory. Dual sensors can be input to a single set of electronics for dual weir/flume or bar screen level applications. The Vantage 2200 is designed to be extremely user-friendly with an easy to read 20 character alphanumeric, self-prompting display and a menu-driven programming guide.
PERFORMANCE
FLOW
APPLICATIONS
Plant Influent
Plant Effluent
Dual Channel Measurement
The Vantage 2200 is pre-programmed at the factory for specific customer applications. If on-site calibration is required, more than 70 standard flow equations for flumes, weirs and open flow nozzles are stored in non-volatile memory. For non-standard applications, a site specific H/Q table may be entered through the 16 button keypad.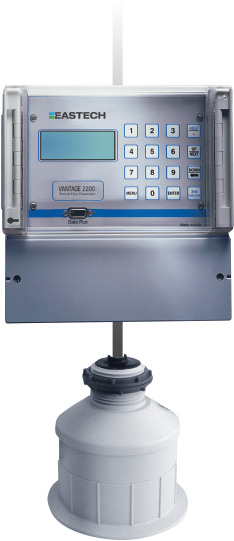 LEVEL
APPLICATIONS
Level Measurement
Differential Level Measurement
Dual Channel Measurement
Pump Alternation
Utilized for level measurement, The Vantage 2200 will accurately measure fluid level in ranges to 50 feet. With 5 programmable relay outputs (optional)for level alarms or pump alternation, the 2200 becomes an extremely versatile instrument for level measurement and control.
CHART RECORDER
INTEGRATED
CHART RECORDER
Eastech design engineers have successfully combined three separate products; a direct-drive chart recorder, transit-time flowmeter and 8 channel datalogger into a single unit. Engineering and plant personnel may now specify an extremely accurate and cost- efficient system to monitor and measure flow in one compact integrated assembly.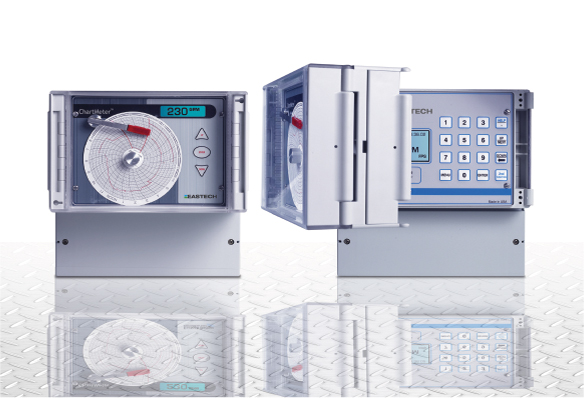 Fully Integrated Package
Powered by Flowmeter
User Selectable Output Ranges and Recording Times
High/Low Alarms and Display of Min/Max Readings
Locking Control Keypad & Door
User Calibration
Wall Mounting Bracket
Floating Point Display with Display Format Selection
Superbright Digital Display
FLUME
MANHOLE FLUME
Easy Installation
Excellent Rangeability
Adapts to Standard Wastewater
Conveyance Pipe
Sized to Fit 4" to 12" Pipe
The Manhole Flume is a unique variation of the Parshall concept designed for easy installation in standard manholes. Its fiberglass reinforced polyester resin construction, engineered for long life and corrosion resistance, incorporates a low head trapezoidal design in conjunction with a hooded outlet collector and pipe spud.
SPECIFICATIONS
Brochures / Tech Briefs / IOM's / Forms
Downloads
Product Brochures
Technical Briefs \ IOM's
Application Forms / Credit Application Form / Return Material Authorization Form (RMA)