ACCURON 7750
Area-Velocity Flowmeter Systems
Each Accuron 7750 system utilizes single or multiple path acoustic transit-time technology capable of realizing highly accurate flow measurements under the most difficult metering conditions. Sensor pairs, positioned on opposite sides of the flow stream, alternately send and receive flow velocity signals across the entire fluid path. By integrating the average velocities ascertained at each measurement path, and then combining that information with data from the ultrasonic level sensor, flow rates may be precisely calculated to within ±0.5%.
INLINE
ACCURON 7700
Inline Cartridge Meters
The Accuron 7700 is an Inline Cartridge Meter specifically designed for partially filled closed pipe applications. A 304 stainless steel spool- type Cartridge, incorporating a trapezoidal flume, ultrasonic level sensor, and a pair of transittime velocity sensors is manufactured to meet exact customer laying length and end connection specifications.During periods of minimal flow (zero to 1/3 pipe), measurements are achieved through a highly efficient combination of a trapezoidal flume (traceable to Bureau of Reclamation WinFlume standards) and an ultrasonic level sensor enclosed within an "above the flow" protective casing. During periods of maximum flow (1/3 to full pipe), measurements are achieved through proven area-velocity methods by combining a pair of chordal transit-time velocity sensors with the same"above the flow" ultrasonic level sensor.The bi-directional transit-time velocity sensors also allow for monitoring of reverse and stagnant flow conditions.

METER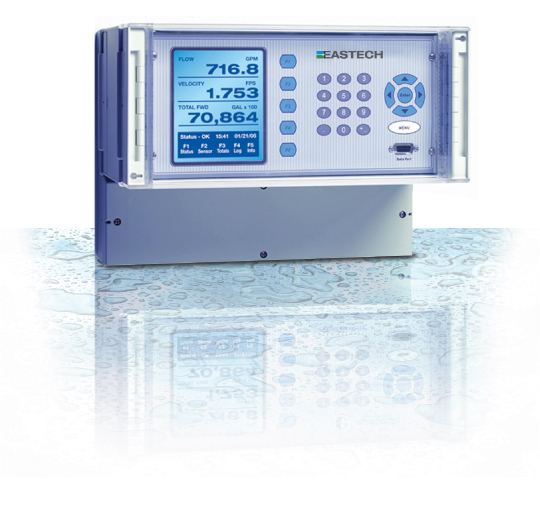 FACTORY PROGRAMMED FLOWMETERS
DATA LOGGING
The Accuron has a built-in datalogger with eight distinct channels for logging flow and totals.
Daily Averages: Daily summary allows viewing of the previous eight days.
Logger Graph: In addition, a bar graph may be visually displayed on the Accuron.
Data Retrieval: Logger data can be collected by using a laptop computer or an optional modem installed within the Accuron enclosure.
SPECIFICATIONS
Brochures / Tech Briefs / IOM's / Forms
Product Brochures
Technical Briefs \ IOM's
Application Forms / Credit Application Form / Return Material Authorization Form (RMA)